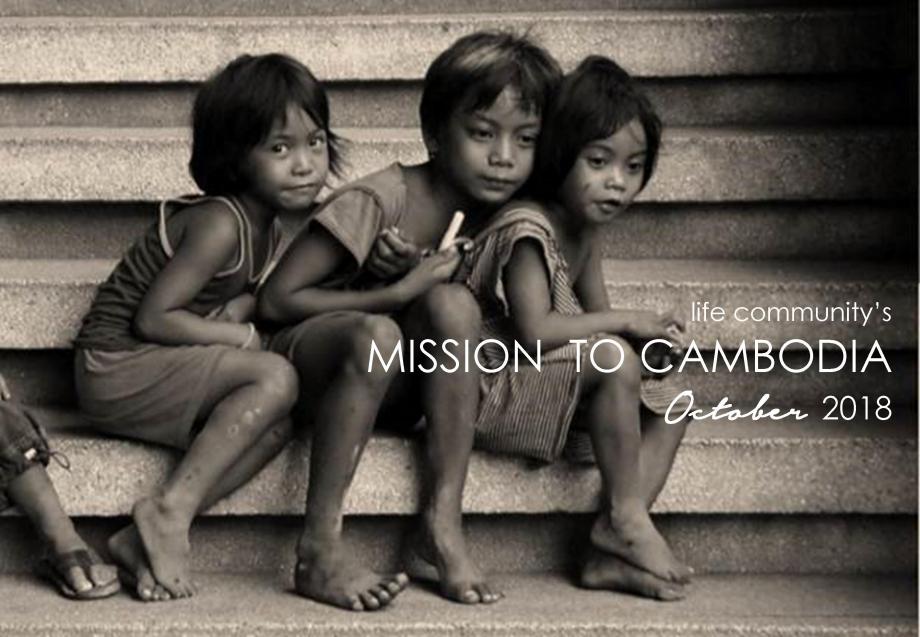 October 20-30, 2018, Life Community is taking a group to Belang, Cambodia to minister to orpahns! Life Community is teaming up with a group in Cambodia, Foursquare Children of Promise, for this mission. In 2016 we took a team into Cambodia and their lives were forever changed by the people in Cambodia. If God is calling you to go on a Mission Trip, now is the time!
Click here to view or download the
INFORMATION PACKET!
To view a Promo Video,
please click here.
To learn more about FCOP, please
click here.
Questions? Please contact our mission coordinator,
Lindsay Adarme
.
SUPPLIES NEEDED...
Backpacks
#2 pencils
Eraser
Pencil Box/Pouch
Pencil Sharpener
Pens
Colored Pencils
Highlighters
12 inch ruler
5 inch blunt tip scissors
Gluestick
4 oz. glue
Wide ruled 1 subject notebook
Compostion notebook
Loose leaf filler paper wide rule
Folders
3 ring binder or zipper binder
Crayons
Markers
Watercolor paint
Ruled index cards
Compass with measuring guide
Calculators
Soap
Shampoo/Condition
Hand Sanitizer
Toothpaste
Toothbrushes
Dental Floss
Deodarant
Baby Wipes
Facial Cleansing cloths
Insect spray
Sunblock
Lip Balm
Manicure set
Tweezers
Brush/Comb
Tissues